Unlike many alternatives on the market, this seamless, slim-fit case is light-weight, made from hardy durable plastic, and the image wraps around the entire case, including the sides and corners.
Popular Cases
OnePlus Nord
LG Stylo 5
iPhone 11 Pro Max
iPhone XR
Samsung Galaxy A71 5G
Asus Zenfone 3
iPhone 6, 6s
Google Pixel 3a
Motorola Moto G7 Power
Samsung Galaxy J3 (2018), J3 Star, J3 V 3rd Gen, J3 Orbit, J3 Achieve, Express Prime 3, Amp Prime 3
Samsung Galaxy Note 20
Samsung Galaxy Note10 Plus, Note10 Plus 5G, Note10+ 5G, Note10+
Samsung Galaxy A70, A70s
Motorola Moto Z2 Play, Z2 Force
Samsung Galaxy A51 5G
Sony Xperia Xperia 10 II
Samsung Galaxy A20e
Motorola Moto E6, E (6th Gen)
iPhone 11 Pro
Samsung Galaxy A10
Samsung Galaxy J7 (2018), J7 Aero, J7 Top, J7 Aura, J7 Crown, J7 Refine, J7 Eon, J7 V 2nd Gen, J7 Star
Motorola Moto G7, G7 Plus
Motorola Moto Z3, Z3 Play
Samsung Galaxy Note9
iPhone 7 Plus, 8 Plus
Apple Watch 42/44 mm
Sony Xperia Xperia 1 II
iPhone X, 10, Ten, XS
Samsung Galaxy S7
OnePlus 8 Pro
NEW DESIGN
Listing of the new phone case designs


---
Personalized Phone Covers
Customize cases using your own photos, designs or text. The hardcases are durable enough to withstand occasional drops and scratches, without adding too much bulk. Create a unique case for your cell phone, it is the ultimate choice for protecting your device in style.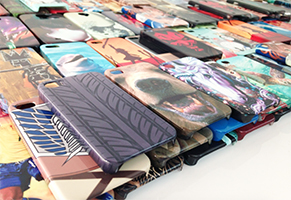 REVIEWS

This shipped quickly and the phone case is wonderful. Fits the phone well and the colors are great.

Breanna Brown


perfect! it has a bit more of a lip on one side than the other, but its not a big deal. wasnt expecting it to come with a weatherproof bag, so thats nice. thanks!!

ali


I received this item a long time ago, but was just now able to leave a review. Very cute design, perfect fit, good price and super fast shipping. I would recommend this seller.

Diana Sanchez


It fits really nice , it was stored very carefully in bubble rap and a water proof bag. It shipped on time and looked better then the picture however there was a small scratch on the case, i'm sure it was not the owners fault and more of the long distance it had to ship. If i find another case i like , i would definitely buy again from here.

Akira Noire


love it so much! gorgeous! thank you!! :)

Emily Yusuf


Nice texture and feel to it!

OliverPepp


This cover is gorgeous and it had a great feel. The image is lovely and I'm so glad it finally got here.

Natalie Bray


Nice piece delivered promptly as promised.

Michael Eliel


I'm giving this a positive feedback because the customer service was exceptional on this product. The product wasn't right when I received it (the coloring was off), so the seller sent me a new one right away to replace it. When that one came and had the same issue, they immediately issued me a refund without any hassle. Although the product wasn't quite what I was looking for, I would trust this seller again because they clearly stand behind their products and want to ensure that their customers are happy. 5 Star customer service! Thank you!

Michael


Arrived quick. Great packaging. Phone case looks awesome! Very good quality! Very pleased and will be buying from again!

tattedfairy8309


Gave as a gift and she loved it !

Doris Muller


Good case. Fits my Galaxy S5 very well. Shipping time wasn't too bad considering it came all the way from Thailand and was packaged very well. My only complaint is that I wish the image on the case was a bit more clear, it's kind of blurry and not as vivid as in the picture. All in all, I'm still satisfied.

Jonathan Sealy

Recommended